Meet Transexuals in Florida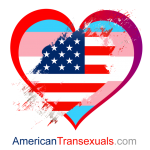 Meet transexuals in Florida at AmericanTransexuals.com, the ultimate destination for those seeking a safe and welcoming space for the transgender community and admirers. Our site provides a comprehensive platform for trans dating, including photo profiles of local trans members. We also offer a directory of trans-friendly bars and clubs for those looking to socialize in person. If you prefer to keep it online then you will enjoy our live trans chat rooms for both transexuals and their admirers. In addition, our transexual escorts and adult classifieds links provide a platform for finding trans sex services.
Florida is home to a growing LGBTQ+ community, with approximately 4.6% of its population identifying as LGBTQ+ as of 2023. However, meeting transexuals for dating in Florida can still present certain challenges, such as societal prejudices and a lack of safe spaces in some areas. We strive to address these obstacles by providing a welcoming and inclusive environment where everyone can feel comfortable exploring their transgender connections and building both fun and meaningful relationships.
Fast Links to Meet Transexuals in Florida:
Florida Transexual Dating Profiles
Online dating has become an increasingly popular option for those seeking to meet transgender women, particularly for trans individuals and their admirers. The internet offers a unique opportunity to connect with people from all over the world, regardless of geographic location.
Where to Meet Transexuals in Florida
In Florida, you are likely to find a higher concentration of transexuals and LGBT people in larger cities and those known for their welcoming environments. Some of these cities include:
Wilton Manors – Known for its high LGBT population, Wilton Manors is often called the "gayborhood" of South Florida.
Miami – Miami's South Beach area, in particular, is known for its LGBTQ+ nightlife and events, including the annual Miami Beach Pride festival.
Fort Lauderdale – With a thriving LGBTQ+ community, Fort Lauderdale offers various bars, clubs, and events catering specifically to the LGBT demographic.
Orlando – The city has a vibrant LGBTQ+ scene, with multiple gay-friendly neighborhoods and events like the annual Come Out With Pride celebration.
Tampa – Tampa's Ybor City neighborhood boasts a diverse and welcoming LGBTQ+ community, with several bars, clubs, and events throughout the year.
St. Petersburg – The city hosts St. Pete Pride, the largest LGBTQ+ pride event in Florida, and has numerous LGBTQ+-friendly establishments.
Jacksonville – Although a more conservative city, Jacksonville has an emerging LGBTQ+ scene with several bars, clubs, and annual events like the River City Pride festival.
Key West – Known for its laid-back and inclusive atmosphere, Key West is a popular destination for LGBTQ+ travelers and has a long history of supporting LGBTQ+ rights.
These cities generally offer the most resources, events, and social spaces for transexuals and LGBT people to connect and feel welcome.
Live Trans Chat Rooms
If you're looking for a great way to connect with and meet transexuals, then visit our live trans chat rooms at AmericanTransexuals.com. Our chat platform is free to join and provides instant access to a welcoming community of trans individuals and their admirers. Trans chat membership is absolutely free and provides instant access to a robust trans social media platform designed to enhance your experience. These include live chat rooms, searchable member profiles, photo swaps, private messaging, and message forums.
To ensure a respectful and enjoyable atmosphere for all, it is crucial to initiate conversations with trans chat members politely. Begin by introducing yourself, expressing genuine interest in the other members, and asking open-ended questions. Avoid using derogatory terms or making offensive remarks, as this can create a hostile environment and hinder your connections.
Who's Chatting Now
Florida Transexual Clubs and Bars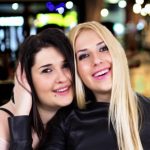 We have hand-curated a list of LGBTQ clubs and bars throughout the state that are known for being welcoming to transexuals and their admirers. This list includes a variety of venues that cater to different interests and preferences, from dance clubs to sports bars to lounges. We are committed to keeping this list updated and accurate, and we appreciate community input whenever there is a new transexual-friendly club or bar that opens, closes, or otherwise requires editing. By providing this resource, we hope to make it easier for transexuals and their admirers to find safe and welcoming spaces.
Florida Transexual-Friendly Nightclubs Updated as of March 2023. Please submit new clubs, closures or updates in the comments at the bottom of this page.
801 Bourbon Bar, 801 Duval St, Key West, FL 33040 (305) 294-4737
Aqua Bar and Nightclub, 711 Duval St, Key West, FL 33040 (305) 294-0555
Bo's, 201 N. 5th St., Jacksonville Beach, FL  (904) 246-9874
Bradley's on 7th, 1510 E 7th Ave, Tampa, FL 33605 (813) 241-2723
Cabaret, 101 S Jefferson St E, Pensacola, FL 32502 (850) 607-2020
City Side, 3703 Henderson Blvd, Tampa, FL 33609 (813) 350-0600
Club Azucar, 2301 SW 32nd Ave, Miami, FL 33145 (305) 443-7657
Cocktail St Pete, 2355 Central Ave, St. Petersburg, FL 33713 (727) 592-1914
CosmoThursdays, 60 NE 11th St, Miami, FL 33132 (786) 390-3547
Cruiser's Lounge, 1517 SE 47th Terrace, Cape Coral, FL 33904 (239) 673-8002
Georgie's Alibi Monkey Bar, 2266 Wilton Dr, Wilton Manors, FL 33305 (954) 565-2526
Enigma, 1110 Central Ave, St. Petersburg, FL 33705 (727) 235-0867
Hamburger Mary's Clearwater, 28910 US-19, Clearwater, FL 33761 (727) 400-6996
Hamburger Mary's Jacksonville, 3333 Beach Blvd, Jacksonville, FL 32207 (904) 551-2048
Hamburger Mary's Fort Lauderdale, 2426 Wilton Dr, Fort Lauderdale, FL 33305 (754) 779-7424
Hamburger Mary's Orlando, Church Street Station, 110 W Church St, Orlando, FL 32801 (321) 319-0600
Incahoots, 711 Edison Ave, Jacksonville, FL 32204
Lips Drag Queen Show Palace, 1421 E Oakland Park Blvd, Fort Lauderdale, FL 33334 (954) 567-0987
OASIS, 1525 4th St, Sarasota, FL 34236 (941) 217-5082
Palace, 1052 Ocean Dr, Miami Beach, FL 33139 (305) 531-7234
Quench Lounge, 13284 66th St N, Largo, FL 33773 (727) 754-5900
Savoy Orlando, 1913 N Orange Ave, Orlando, FL 32804
Scandals Saloon, 3073 NE 6th Ave, Wilton Manors, FL 33334 (954) 567-2432
Southern Nights, 375 S. Bumby Avenue, Orlando, FL   (407) 898-0424
Splash Bar Florida, 6520 Thomas Dr, Panama City Beach, FL 32408 (850) 236-3450
The Metro, 2929 Plum St., Jacksonville, FL   (904) 388-7192
The Parrot, 1030 E Main St, Lakeland, FL 33801 (863) 370-9146
The Pub Wilton Manors, 2283 Wilton Dr, Wilton Manors, FL 33305 (754) 200-5244
The Terrace on Main Street, 415 Main St, Daytona Beach, FL 32117 (386) 265-4227
Twisted Rooster Bar, 1220 W New Haven Ave #150, Melbourne, FL 32904 (321) 345-5924
University Club, 18 E University Ave, Gainesville, FL 32601 (352) 378-6814
Florida Escorts and Sex Workers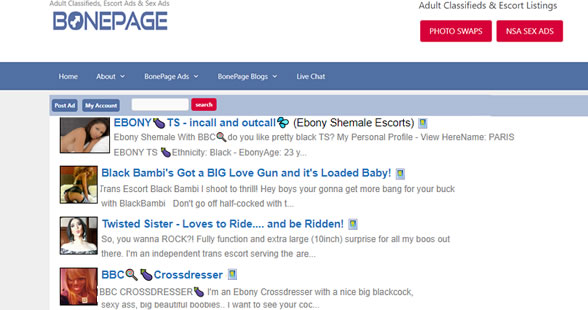 Browse Florida Escorts and Sex Classifieds
Why Some Trans Women Get Into the Adult Industry
Various factors can contribute to some transexuals and transgender women choosing to become escorts, sex workers, transexual massage providers, or webcam models. Limited job opportunities due to societal prejudices, make it challenging for some trans women to find stable and well-paying jobs, so some may turn to sex work or related adult industries as a means of financial support.
Working in the adult industry can provide a level of independence and control over one's work schedule and income, which can be appealing to some people. For some transgender women, engaging in sex work or adult entertainment can be an avenue for self-affirmation and validation of their gender identity. There is a huge market for transgender escorts, massage providers, and webcam models, creating opportunities for those who choose to work in this industry.
In Florida, transexual and transgender individuals involved in these industries are more likely to be found in larger cities with a higher concentration of LGBTQ+ communities and entertainment venues, such as Miami, Fort Lauderdale, Orlando, and Tampa. These cities typically offer a more accepting atmosphere and greater opportunities for finding clients or customers. Remember that not all transexual and transgender individuals are involved in the adult industry, and assumptions or generalizations should be avoided.
---
AmericanTransexuals.com wishes you the best of luck finding trans friends and lovers in Florida!