Meet Transexuals in Georgia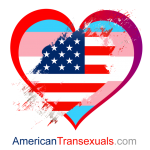 Meet transexuals in Georgia at AmericanTransexuals.com, the ultimate destination for those seeking a safe and welcoming space for the transgender community and admirers. Our site provides a comprehensive platform for trans dating, including photo profiles of local trans members. We also offer a directory of trans-friendly bars and clubs for those looking to socialize in person. If you prefer to keep it online then you will enjoy our live trans chat rooms for both transexuals and their admirers. In addition, our transexual escorts and adult classifieds links provide a platform for finding trans sex services.
We are committed to helping you connect with transexuals in Georgia! Browsing our extensive database of online dating profiles or joining our vibrant live chat platform, you'll be connected with thousands of transexuals and admirers for friendship, dating, and more. Georgia is home to a diverse LGBTQ community, with an estimated 4.5% of the adult population identifying as LGBTQ. However, the Peach State still faces challenges in terms of social acceptance and anti-discrimination policies, which can make it difficult for transexuals and their admirers to connect safely and openly. We strive to provide a welcoming, inclusive environment where you can meet like-minded individuals, share experiences, and forge lasting connections.
Where to Meet Transexuals in Georgia
In Georgia, you're more likely to find transexuals and LGBT people in urban areas and progressive cities. Some of the cities with more inclusive environments, transgender resources, and thriving LGBT communities include:
Atlanta – Known for its vibrant LGBT scene, Atlanta hosts numerous events, including the annual Atlanta Pride Festival, and offers various LGBT-friendly venues and neighborhoods.
Savannah – This historic city has a growing LGBT community and hosts the Savannah Pride Festival annually. It also offers several LGBT-friendly establishments and a welcoming atmosphere.
Athens – Home to the University of Georgia, Athens has a diverse, college-town feel and features inclusive spaces and events for the LGBT community.
Decatur – A suburb of Atlanta, Decatur is known for its progressive vibe, and hosts events like the Decatur Pride Festival, celebrating the local LGBT community.
Macon – With a growing LGBT scene, Macon is becoming more inclusive, offering LGBT-friendly venues and hosting events like the Macon Pride Festival.
Augusta – As one of Georgia's larger cities, Augusta features a few LGBT-friendly establishments and hosts the Augusta Pride Festival annually.
Columbus – This city has a small but growing LGBT community, with several inclusive venues and events such as Columbus Pride.
While these cities may have a higher concentration of LGBT individuals and resources, it's important to remember that you can find members of the trans community throughout Georgia. You may just need to search a littler more to find them, but transgender people are everywhere.
Fast Links to Meet Transexuals in Georgia:
Meet Georgia Transexuals: Dating Profiles
Online dating has become an increasingly popular option for those seeking to meet transgender women, particularly for trans individuals and their admirers. The internet offers a unique opportunity to connect with people from all over the world, regardless of geographic location.
Live Trans Chat Rooms
If you're looking for a great way to connect with and meet transexuals, then visit our live trans chat rooms at AmericanTransexuals.com. Our chat platform is free to join and provides instant access to a welcoming community of trans individuals and their admirers. Joining the live trans chat rooms at AmericanTransexuals.com is a fantastic way to mingle with and meet Georgia transexuals in a welcoming, inclusive environment.
By becoming a member, which is absolutely free, you'll gain instant access to our user-friendly chat platform. This platform offers an array of interactive features, such as live chat rooms, searchable member profiles, photo swaps, private messaging, and message forums, making it easier than ever to connect with like-minded Georgia folks.  When starting conversations with transexual members, always remember to be polite, respectful, and considerate. Avoid using derogatory terms (such as shemale) or language that could be perceived as offensive. Use their preferred names and pronouns, and focus on getting to know them on a personal level. By fostering a genuine connection and demonstrating your understanding and respect for their identity, you'll create a positive atmosphere that encourages open and meaningful conversations.
At AmericanTransexuals.com, we strive to create a safe and supportive space where everyone can feel comfortable exploring their interests and making new connections. Join us today and experience the welcoming community that awaits you!
Who's Chatting Now
Georgia Transexual Clubs and Bars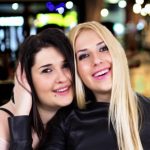 We have hand-curated a list of LGBTQ clubs and bars throughout the state that are known for being welcoming to transexuals and their admirers. This list includes a variety of venues that cater to different interests and preferences, from dance clubs to sports bars to lounges. We are committed to keeping this list updated and accurate, and we appreciate community input whenever there is a new transexual-friendly club or bar that opens, closes, or otherwise requires editing. By providing this resource, we hope to make it easier for transexuals and their admirers to find safe and welcoming spaces.
Georgia Transexual-Friendly Nightclubs Updated as of March 2023. Please submit new clubs, closures or updates in the comments at the bottom of this page.
Blake's on the Park, 227 10th Street NE, Atlanta, GA 30309, (404) 464-7715
Bulldogs, 893 Peachtree St NE, Atlanta, GA 30309
Club One, 1 Jefferson St, Savannah, GA 31401, (912) 232-0200
Diva Royale Drag Queens Show, 2101 Tula St NW, Atlanta, GA 30309, (404) 384-0181
Edge Nightclub, 1258 Gordon Hwy, Augusta, GA 30901, (706) 804-2882
Friends on Ponce, 736 Ponce De Leon Ave NE, Atlanta, GA 30306, (404) 817-3820
Future Atlanta, 50 Lower Alabama St, 180 SW, Atlanta, GA 30303, (470) 225-1955
Lips Drag Queen Show Palace, 3011 Buford Hwy NE, Atlanta, GA 30329, (404) 315-7711
Mary's, 1287 Glenwood Ave SE, Atlanta, GA 30316, (404) 624-4411
Midtown Moon – Atlanta, 1492 Piedmont Ave NE, Atlanta, GA 30309, (404) 343-6514
MSR My Sisters Room, 84 12th St NE, Atlanta, GA 30309, (678) 705-4585
Sister Louisa's Church – Athens, 254 W Clayton St, Athens, GA 30601, (706) 850-3668
The Heretic Atlanta, 2069 Cheshire Bridge Road, Atlanta, GA (404) 325-3061
The Hideaway, 1544 Piedmont Ave NE, Atlanta, GA 30324, (404) 874-8247
The T, 465 Boulevard SE Suite 103-A, Atlanta, GA 30312, (404) 343-2450
Woofs Sports Bar, 494 Plasters Ave. NE, Atlanta, GA 30324, (404) 869-9422
Meet Georgia Transexual Escorts & Sex Workers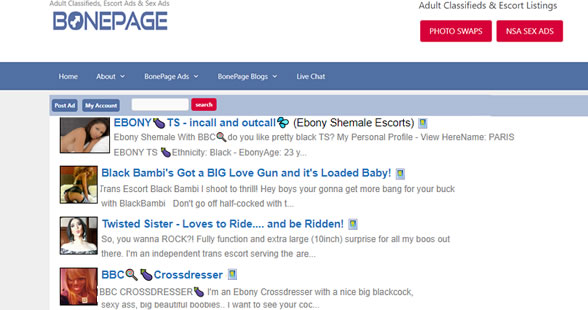 You will find there are plenty of Georgia transexual escorts and sex workers. There are many reasons why some transexuals and transgender women choose to become escorts, sex workers, transexual massage providers, or webcam models. Some common reasons include:
Economic necessity due to employment discrimination.
Financial independence.
Flexibility in work schedules and locations.
Empowerment by taking control of their bodies and experiences surrounding their own gender and sexuality.
Acceptance and validation in the sex industry.
It is crucial to recognize that sex work is a complex and multifaceted issue, with both positive and negative aspects. AmericanTransexuals.com supports the rights and safety of all sex workers, regardless of their reasons for entering the industry, and we strive to create a society that is more accepting and inclusive of transgender individuals in all areas of life.
Browse Georgia Escorts and Sex Classifieds
---
AmericanTransexuals.com wishes you the best of luck finding trans friends and lovers in Georgia!