Meet Transexuals in Indiana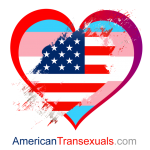 Meet transexuals in Indiana at AmericanTransexuals.com, the ultimate destination for those seeking a safe and welcoming space for the transgender community and admirers. Our site provides a comprehensive platform for trans dating, including photo profiles of local trans members. We also offer a directory of trans-friendly bars and clubs for those looking to socialize in person. If you prefer to keep it online then you will enjoy our live trans chat rooms for both transexuals and their admirers. In addition, our transexual escorts and adult classifieds links provide a platform for finding trans sex services.
Fast Links to Meet Transexuals in Indiana:
Indiana Transexual Dating Profiles
Online dating has become an increasingly popular option for those seeking to meet transgender women, particularly for trans individuals and their admirers. The internet offers a unique opportunity to connect with people from all over the world, regardless of geographic location.
Live Trans Chat Rooms
If you're looking for a great way to connect with and meet transexuals, then visit our live trans chat rooms at AmericanTransexuals.com. Our chat platform is free to join and provides instant access to a welcoming community of trans individuals and their admirers.
Who's Chatting Now
Indiana Transexual Clubs and Bars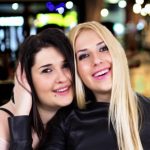 We have hand-curated a list of LGBTQ clubs and bars throughout the state that are known for being welcoming to transexuals and their admirers. This list includes a variety of venues that cater to different interests and preferences, from dance clubs to sports bars to lounges. We are committed to keeping this list updated and accurate, and we appreciate community input whenever there is a new transexual-friendly club or bar that opens, closes, or otherwise requires editing. By providing this resource, we hope to make it easier for transexuals and their admirers to find safe and welcoming spaces.
Indiana Transexual-Friendly Nightclubs Updated as of March 2023. Please submit new clubs, closures or updates in the comments at the bottom of this page.
After Dark, 112 E Masterson Ave, Fort Wayne, IN 46803, (260) 456-6235
Dick's R U Crazee, 1221 150th St, Hammond, IN 46327, (219) 852-0222
Dockside Nightclub, 1835 Lincoln Way E, South Bend, IN 46613, (574) 400-0848
Downtown Olly's, 822 N Illinois St, Indianapolis, IN 46204, (317) 636-5597
English Ivy's, 944 Alabama St, Indianapolis, IN 46202, (317) 822-5070
Gregs Indy, 231 E 16th St, Indianapolis, IN 46202, (317) 638-8138
Jeannie's Tavern, 621 S Bendix Dr, South Bend, IN 46619, (574) 288-2962
Mark III Tap Room, 306 S Walnut St, Muncie, IN 47305, (765) 216-1327
Metro Nightclub & Restaurant, 707 Massachusetts Ave, Indianapolis, IN 46204, (317) 639-6022
PRIDE bar + lounge, 504 State St, New Albany, IN 47150, (812) 200-9546
R Bar, 100 N Center St, Mishawaka, IN 46544, (574) 387-4479
Someplace Else Nightclub, 930 Main St, Evansville, IN 47708, (812) 424-3202
The Back Door, 207 S College Ave, Bloomington, IN 47404, (812) 333-3123
Zimmarss Showbar, 1500 Locust St, Terre Haute, IN 47807, (812) 232-3026
Zonie's Closet, 1446 Washington St, Indianapolis, IN 46201, (317) 266-0535
Indiana Escorts and Sex Workers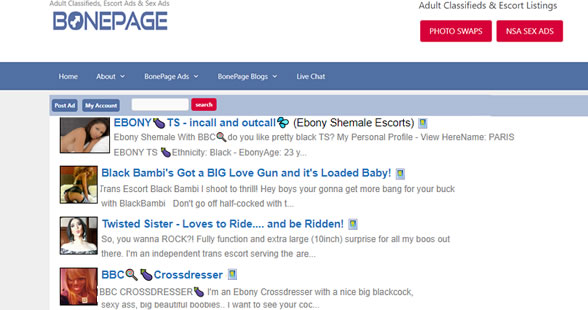 Browse Indiana Escorts and Sex Classifieds
---
AmericanTransexuals.com wishes you the best of luck finding trans friends and lovers in Indiana!